Council Auction Software to dispose of local government assets
Are you looking for a dependable and simple option to sell local government assets online? You can sell your assets online with the aid of Webtron's online auction software, which is a reliable, secure, and safe online auction solution.
With more than 15 years of experience in online auctions, we have the expertise and a network of partners to assist you in quickly, easily, and safely disposing of your assets.
Our online auction software is a white-label, scalable, and simple-to-use solution. We can customise your online auctions to meet the needs of your council, whether you'd want them to run online on their own or on a specific day with real-time bidding. We offer options for timed or live webcast auctions.
A safe, secure and trusted online auction solution
Webtron's online auction software makes selling your assets easy and stress-free. With our network of partners, we can help you find someone to set up and run your auctions, saving you time and trouble. Our solution is also scalable, meaning that you can sell as little or as much as you like, as often as you like.
Professional, secure and trustworthy
Network of partners to help you sell your assets online
Convenient and flexible solution
Easy to get started
PCI and GDRP compliant
No need to invest in expensive hardware or software to get started
Highly scalable
Reporting
Invoicing
Mobile-friendly, app-free bidding
Set-up, training and ongoing auction support
Online auction solutions for your business
🎥 Live Webcast Auctions
⏳ Timed Online Auctions
📈 Marketplace
👩‍💻 Remote Clerking option
✅ Everything you need & will run from your own website
🏷 White Label Auction Software – 'value protect your bidders & IP' ( Not a group site
)
So modern works on all devices without frustrating bidders to download apps
🧑‍💻 Includes Setup, Training & Local Ongoing Support
🧾 Auction invoicing & reporting
🖥 Websites & marketing
😊 Simple for bidders and powerful for auctioneers
So ready to get started?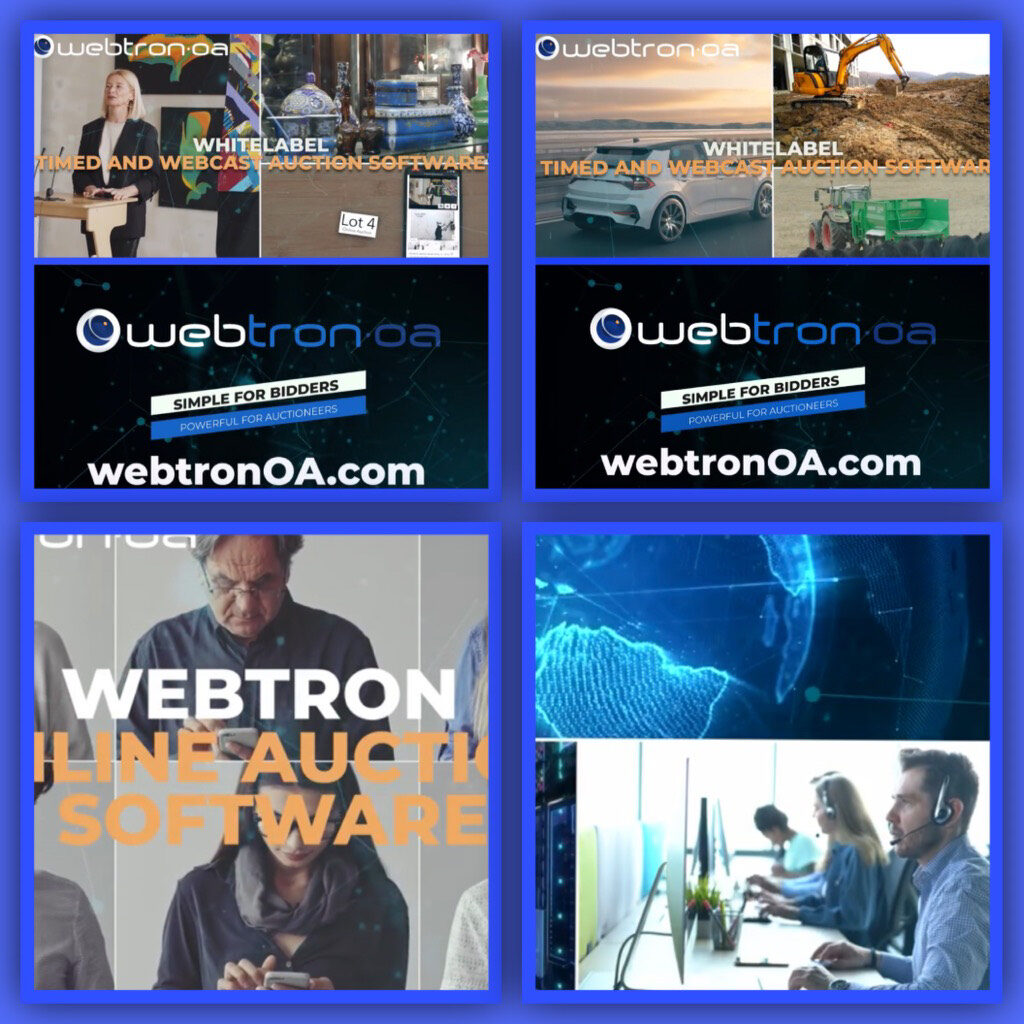 The latest in Webtron 7.2 is here
There has never been a better time to upgrade your online auction software to Webtron's 7.0 newest auction software release.
Webtron 7.2 has been designed for council auctioneers just like you! Take advantage of a white-label auction solution that runs from your website.
It's 'Simple for bidders and powerful for auctioneers'.
Please get in touch and arrange a demo for your business.
Want to know more? Send us an enquiry